主辦單位: 香港全能運動學會 Organizers: HK Multisports Association

活動目的:推廣運動文化及家庭同樂,增進友誼和團隊精神,為有需要幫助之團體籌款 Objectives: To promote active lifestyle among families and friends while raise funds for needy organizations, and help to raise fund for charity organization.
*是次活動部份收益,將撥捐受惠機構-國際肌肉骨骼疼痛協會 (慈善團體編號:91/14565) Partial proceeds of the event will be donated to Beneficiary : Multidisciplinary International Association of Musculoskeletal Pain, HK charitable organization No: 91/14565)
比賽地點:薄扶林水塘郊野公園家樂徑 (港島徑段) Race Course: Pokfulam Country Park and Family Walk (Part of HK Trail)
比賽時限:2小時 Time limit: 2 hrs
賽事: 10公里長跑賽、親子尋寶遊戲比賽 Event: 10KM Running Race, Family Treasure Hunt
10公里長跑賽 10KM Running Race
個人組別 (男、女子):(*以比賽當日之年齡作準) Running race Individual Categories: (*Age on race day)
青少年組 Junior(11歲-17歲), 公開組 Open(不限年齡 No Age Limited), 成年組 Senior(18歲-29歲), 高級一組 Master 1(30-39歲), 高級二組 Master 2(40-49歲), 高級三組 Master 3(50-59歲), 高級四組 Master 4(60歲或以上)
四人隊際組別:Running Race 4-pax Team Categories:
男子、女子(不限年齡,必需全隊組員為相同性別)及混合組 (*必需至少一名異性隊員) Men and Women (*no age limit, Must be the same sex) and Mixed Team (* at least one opposite sex players)
10km長跑賽獎項:每組均設有冠、亞、季軍,可以獲得獎座及禮品,第4及5名均可以獲得獎牌及禮品 Awards: Trophies and prizes for the first three positions in each category. Medal and prizes for the 4 and 5 positions in each category.
*凡成功完成賽程者,均可獲得精美紀念証書一張 Who successfully finish the race, will be awarded a commemorative certificate.
慈善抽獎:大會將於頒獎典禮前進行慈善大抽獎,獎品豐富,絕對不容錯過! Charity Lucky Draw: Charity Lucky draw will be held before prize presentation. There are plenty of attractive lucky draw prizes and all entrants are eligible.
紀念品:所有參加長跑賽之參加者,均會獲得大會及其他贊助單位送出精美紀念品乙份 Souvenirs: will be given to all race 10k entrants.

比賽路線 Race route: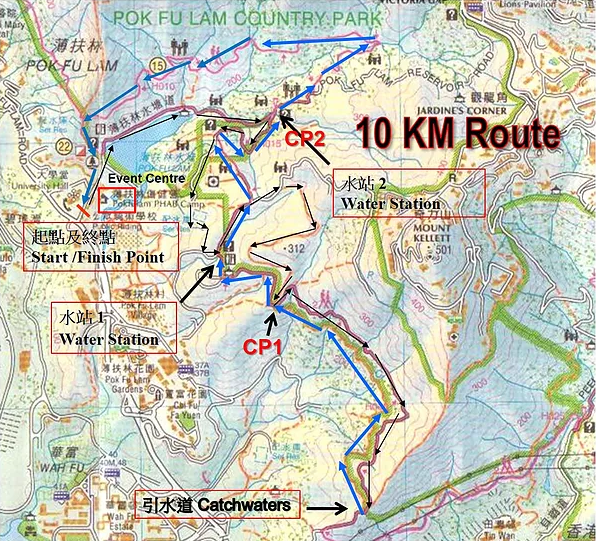 親子尋寶遊戲比賽 Family Treasure hunt
參賽人數須由二至三人組成,所有參加者組員必須是家庭之家屬或監護人(18歲或以上)及與至少一名兒童組合而成, 而兒童年齡是介乎2>至10歲。賽程設於薄扶林郊野公園及網球場公園內進行 It will consist of teams of 2-3 family members of which at least a child member aged 2>-10 and a guardian aged 18 or above. Venue at Pokfulam ​country ​park ​and ​tennis ​courts ​HKU
組別:Categories:
兒童1組 Kids 1 (2-5歲), 兒童2組 Kids 2 (6-10歲)

大會特設獎項:Extra awards:
*10km全場總冠軍男、女子各一名(全場最快完成賽事之人士,包括隊際組別成員) 10km Overall champion men and woman (audience fastest persons, including in the team categories)
*最活潑大獎一名 (親子尋寶遊戲比賽最年幼參賽者) Most Vital Award (the most senior person in the 10k race)
*最有活力獎一名 (個人長跑比賽最年長參賽者) The loveliest award (Family Treasure hunt in the youngest contestant)
Event information
25 March 2018

Pok Fu Lam Country Park 薄扶林水塘郊野公園
Hong Kong
See map below
Registration is closed