以一小時, 挑戰最長跑步距離! Challenge yourself to run the longest distance you can in 1 hour!
You, but faster.
全新虛擬跑活動 Saucony Virtual Hour Challenge, 給跑手全新體驗, 以虛擬跑形式為跑手建立挑戰自己的平台, 讓參加者以一小時, 嘗試跑出個人最長距離紀錄。This brand new virtual run event, Saucony Virtual Hour Challenge, brings a new experience to runners with the aim of providing a platform to challenge yourself. Participants get the chance to set their 'person best' record for longest distance they can run within 1 hour.
跑手可在一小時裡盡情發揮,挑戰個人極限,以達至跑得更遠,跑得更快。Runner will have 1 hour to showcase their running talent and challenge their personal limits to reach farther and faster.
為鼓勵各界參與,參加者將可獲得多項精美禮品及不同優惠。Everyone signed up for this challenge will get various souvenir gifts and special discounts.
參加者需在2021年5月9日至7月5日期間,用一小時以跑步或步行形式活動(完成距離不少於4公里),並於2021年7月5日或前把完成時間、照片及跑步記錄上載。(有關參與細則及要求,請參閱活動網頁的" 參與程序"及" 規則及注意事項"。) Participants need to run (or jog or walk) as far as they can (minimum distance of 4km) within 1 hour during the running period from 9 May to 5 July and upload their running record on or before 5 July, 2021. Please refer to "Event Flow", and "Rules and Special Notices" of event web page for the details requirement.

組別及報名費 Category & Registration Fee:
香港地區組 In Hong Kong Category:
參加者須於香港以內地區完成活動。選手包及活動後禮品於指定日期在Cam2門市領取。
Participant need to complete the event within Hong Kong. Race pack and post event gifts pick up will be at Cam2 Store.
報名費 Registration Fee: HKD$280港元
截止報名日期 Registration Deadline: 2021年7月5日 5 July, 2021

香港以外組 Outside Hong Kong Category:
參加者須於香港以外地區完成活動。選手包及活動後禮品將郵寄給參加者。
Participant need to complete the event outside Hong Kong. Race pack and post event gifts will be sent by postal mail.
報名費 Registration Fee: HKD$360港元
截止報名日期 Registration Deadline: 2021年6月27日 27 June, 2021

選手包及活動後禮品 Race Pack, and Post Event Gifts:

活動後禮品包括 Post event gifts includes
1. Saucony Virtual Hour Challenge X Uglow紀念背心1件 Souvenir Vest 1pc (價值 Value: HKD$500)
2. Saucony X Uglow紀念帽 1頂 Souvenir Cap 1pc (可選擇淺藍色或粉紅色 Choice of light blue color, or pink colour) (價值 Value: HKD$300)
3. 完成電子証書 E-Finisher Certificate (完成並提交活動記錄後下載 Participant can download after submit the activity record)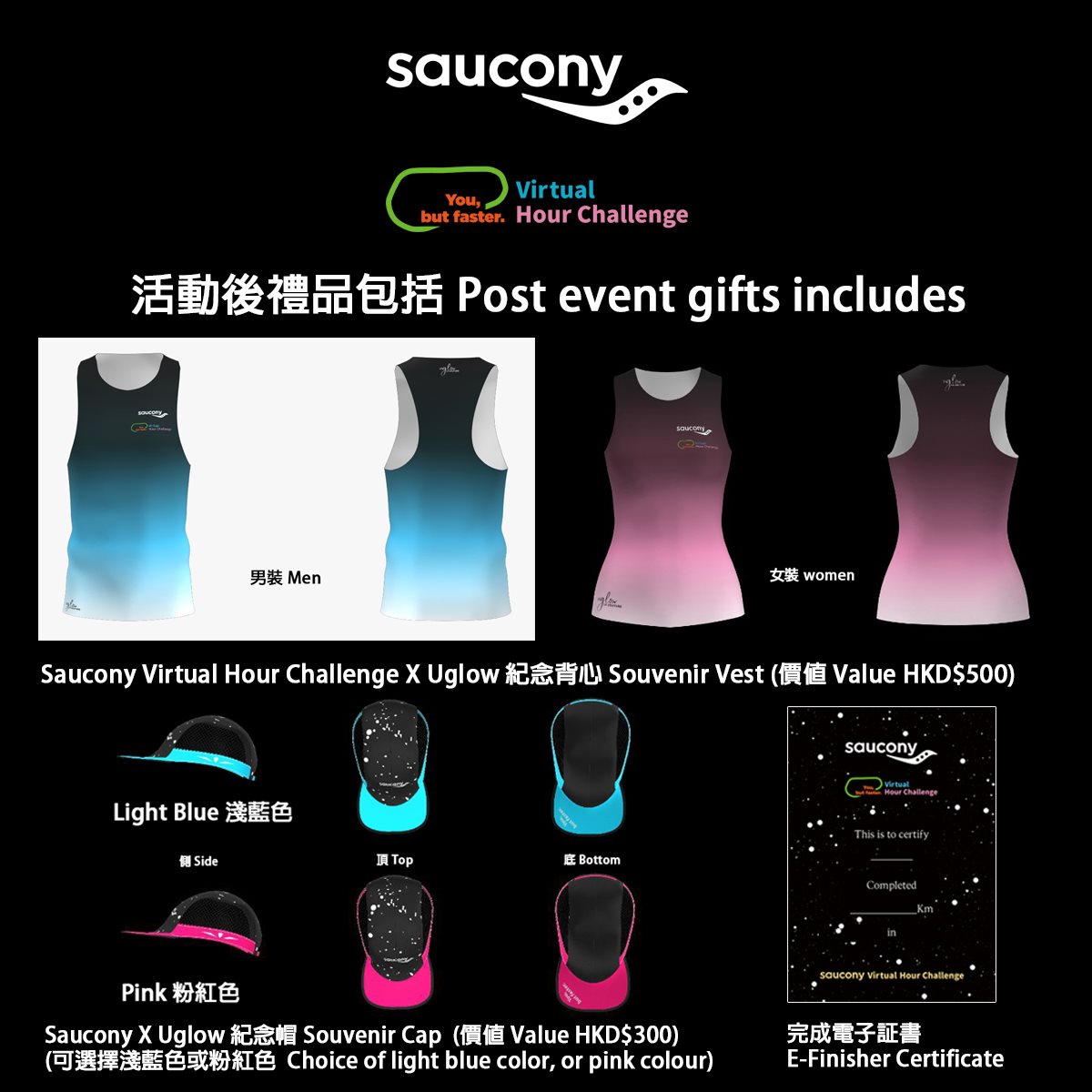 選手包包括 Race pack includes
1. 號碼布 Bib
2. CELSIUS® 攝氏健態飲品 1罐can (香港地區組首1000名參加者 First 1000 participants of In Hong Kong Category)
3. Nuun 電解片單片裝Electrolyte Tablet single piece (香港地區組第1001-1700名參加者 1001th -1700th participants of In Hong Kong Category)
4. SAUCONY運動鞋7折優惠劵 30% off Discount coupon on buying Saucony shoes (只限 香港地區組 In Hong Kong Category only)
5. $50 Cam2 現金劵 Cash Voucher X 2 (只限 香港地區組 In Hong Kong Category only)
6. Cam2購買amino VITAL Perfect Energy 6包裝 6折優惠 40% off on buying amino VITAL Perfect Energy 6 packs Box at Cam2 (原價Original Price $258 6折價 After 40% Off Discount $155) (只限 香港地區組 In Hong Kong Category only, 2021年5月7日至7月5日期間限定 Valid from 7 May to 5 July, 2021)
7. Cam2購買Polar Vantage M2 8折優惠 20% off on buying Polar Vantage M2 at Cam2 (原價Original Price $2580 8折價 After 20% Off Discount $2064) (只限 香港地區組 In Hong Kong Category only, 2021年5月7日至7月5日期間限定 Valid from 7 May to 5 July, 2021)