致力透過高質素越野跑用品,務求令用家達至最理想表現的瑞士品牌COMPRESSPORT,全力支持全新虛擬跑活動COMPRESSPORT Virtual Trail Hong Kong,為戶外活動愛好者提供在美麗山徑享受大自然景色機會,同時為越野跑手建立挑戰自己的平台,讓大家在山野間盡情發揮潛能。
​是次活動路線設定於衛奕信徑的港島路段,為山界眾所周知的香港島景色最美路線,跨越小馬山、渣旬山、紫羅蘭山及孖崗山等山崗,盡覽香港九龍沿岸、大潭水塘、赤柱半島景色。同時是越野跑手上落山能力考驗的最佳路線。
​為鼓勵各界參與,參加者將可獲得多項精美禮品及不同優惠。
​參加者需在2021年2月21日至3月29日期間一次過完成既具特色而又能考驗自己的景色優美路線,並於2021年3月29日或前把完成時間、照片及跑步記錄上載。
​​COMPRESSPORT from Switzerland provides high quality trail running equipment to meet the users' best performance need proudly present the brand new virtual run event, COMPRESSPORT Virtual Trail Hong Kong. It gives hikers chance to enjoy scenic view on most beautiful trail in Hong Kong Island. Trail runner can also get the chance to challenge yourself.
​The route is located at the Hong Kong section of Wilson Trail. It is well known for the most stunning scene of Hong Kong Island. The route passes through Siu Ma Shan, Jardine's Lookout, Violet Hill, and The Twins. Scenes of Hong Kong Island and Kowloon coastline, Tai Tam Reservoir, and Stanley Peninsula can be seen throughout the course.
​Participants will get various souvenir and special discount by registering this event.
Participant needs to complete the route in once time during 21 February - 29 March , 2021, and upload the result, photo, and running record on or before 29 March, 2021.
報名日期

Registration Period:
2021

年

1

月

29

日至

3

月

29

日
29 January – 29 March, 2021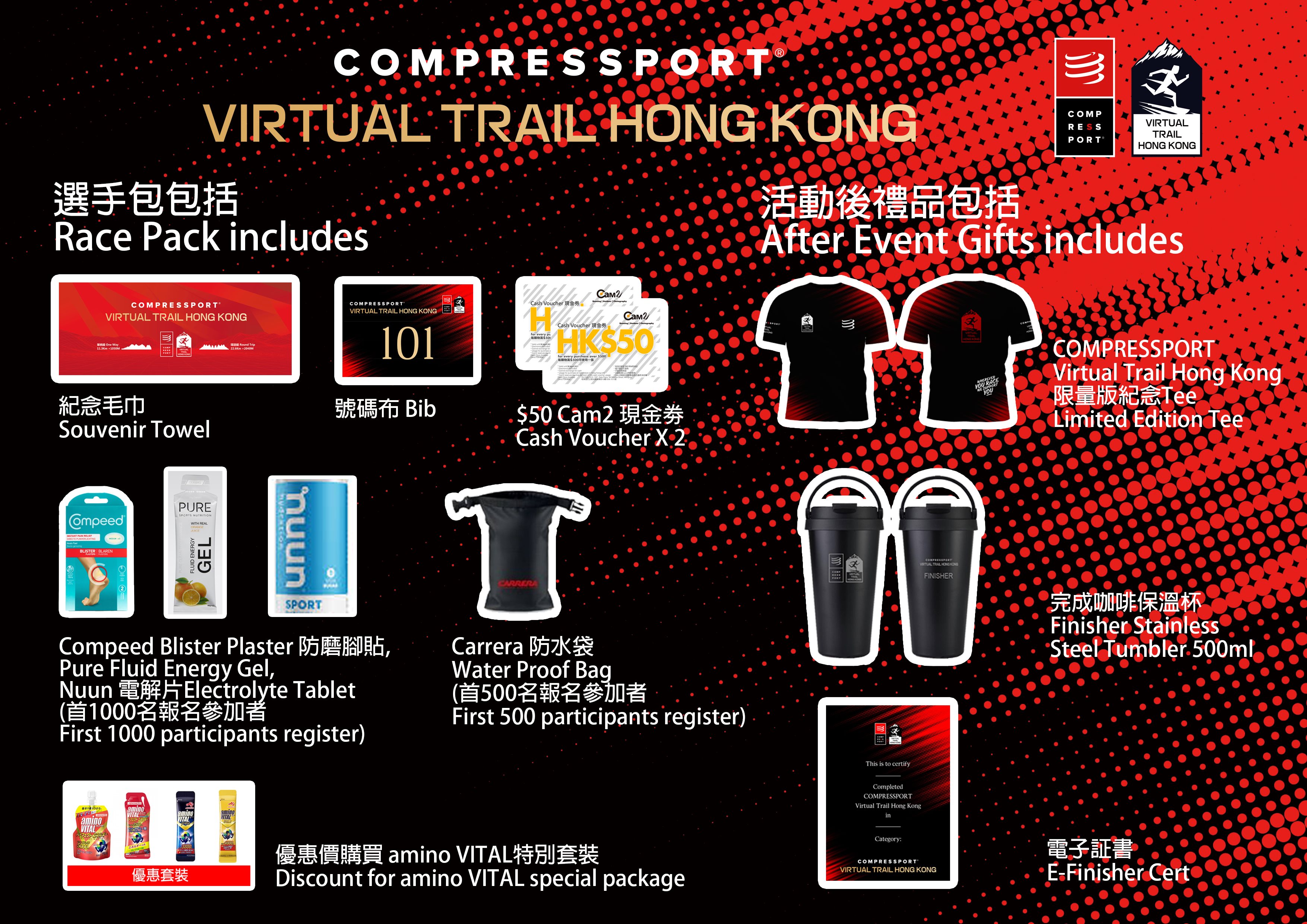 路線資料:
11公里單挑組:由基利路休憩處起步,沿衛奕信徑第二段及第一段逆走至赤柱峽(衛奕信徑起點)。
22公里環迴組:沿11公里單挑組路線至赤柱峽,再原路折返回基利路休憩處。
Course Details:
11Km One Way Category: Start from Greig Road Sitting-out Area, and follow Wilson Trail Section 2 and 1 in reverse direction to Stanley Gap for the Finish.
22Km Round Trip Category: Finish the course of 11Km One Way Category to Stanley Gap, and and goes back to Greig Road Sitting-out Area on same course.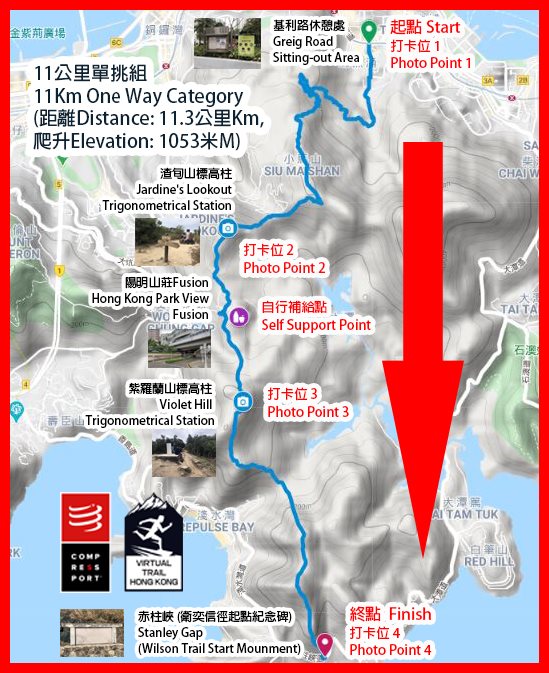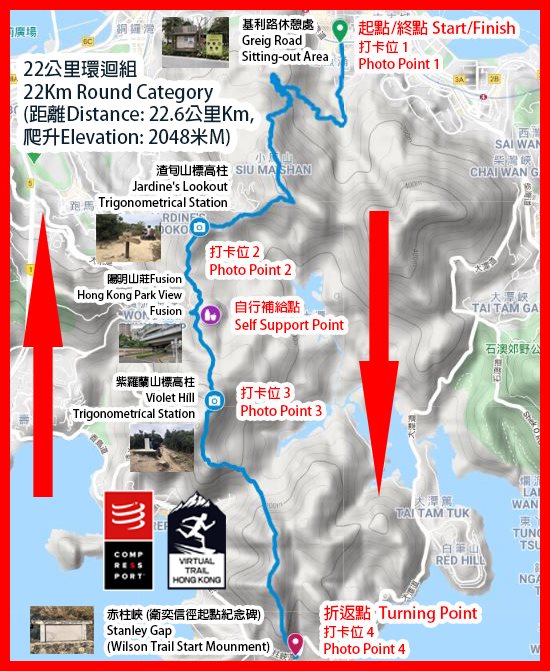 領取選手包:2月15日至3月29日
領取活動後禮品:
號碼布編號 1-1000: 2021年5月7日至13日
號碼布編號 1001-2000: 2021年5月14日至20日
號碼布編號 2001-3000: 2021年5月21日至27日
號碼布編號 3001或以上: 2021年5月28日至6月3日
​領取選手包及活動後禮品物地點: Cam2 門市 香港旺角登打士街56號家樂坊10樓1006-1013室
Race pack pick up dates: 15 Feb to 29 Mar
After event gifts pick up dates:
Bib number 1-1000: 7 -13 May, 2021
Bib number 1001-2000: 14-20 May, 2021
Bib number 2001-3000: 21-27 May, 2021
Bib number 3001 or above: 28 May – 3 June, 2021
Pick up location: Room 1006-1013, 10/F., Gala Place, 56 Dundas Street, Mong Kok (Opening Hour: 11:30am – 9:15pm)