經過同政府各部門再次申請及確定後, 3球野畢架山站會更改比賽日期為2023年11月4日(星期六) , 比賽起步時間改為上午10:00 .

香港經歷左百年一遇黑雨及嚴重水災影響下,很多郊野公園山徑都受到嚴重破壞,
其中尖沙徑一段有3處塌坊,而麥理浩徑第5段近大埔道出口位也有山泥傾瀉.
我們考慮到香港郊野公園廣泛地區受到影響,漁護處也未能及時復修.
以盡量保留原本路線大前提下,尾段會改走鷹巢山自然教育徑上畢架山頂.

受破壞路段如下: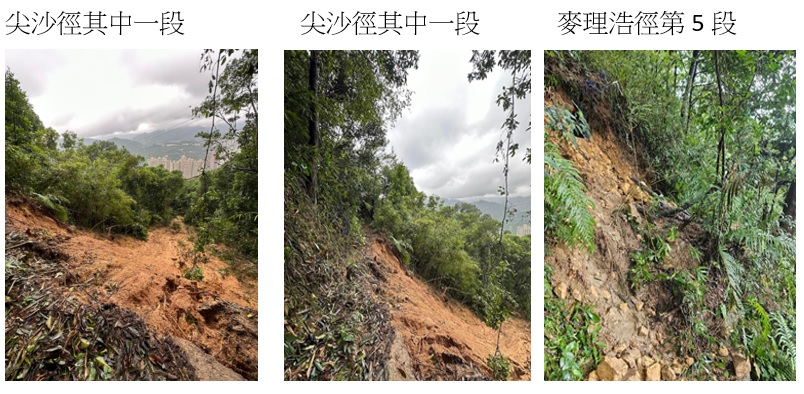 最新路線
https://ridewithgps.com/routes/43747801

水站(2.7KM) -沙田坳
CP1 (11KM) -大埔道
CP2 (14.5KM) - 畢架山頂
FINISH (18.8KM) 黃大仙配水庫遊樂場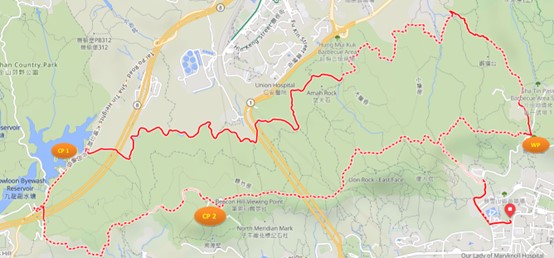 最新檢查站安排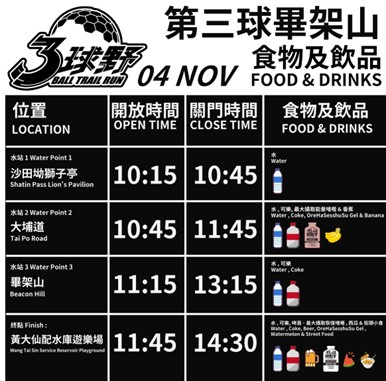 有關改動資料詳情可參考網站
https://www.actionpanda3ballrun.com/

After further application and confirmation with various government departments,
3 Ball Trail Run-Beacon Hill will change the event date to November 4, 2023 (Saturday), and the start time will be changed to 10:00 am.

Affected by hundred-year storm black rain and severe flooding in Hong Kong, many country park trails were severely damaged. There were three collapsed sections of
Tsim Sha Trail, and there was also a landslide in section 5 of Maclehose Trail near the exit of Tai Po Road.We consider that a wide range of Hong Kong country parks have been affected, and the Fisheries and Conservation Department has not been able to repair it in time.Under the premise of retaining the original route as much as possible, the last section will be changed to the Eagle's Nest Nature Trail to the top of Beacon Peak.

The damaged sections are as follows: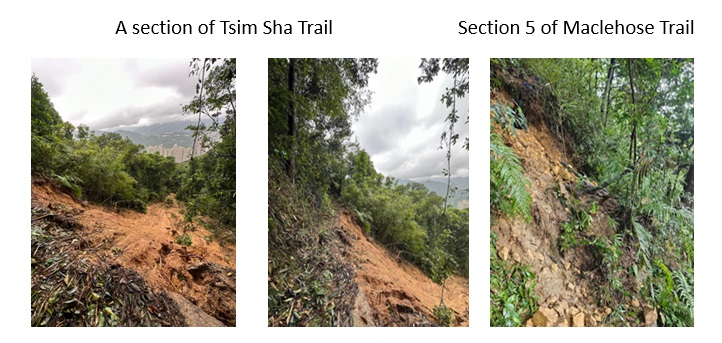 Latest route
https://ridewithgps.com/routes/43747801

Water Point(2.7KM) -Shatin Pass
CP1 (11KM) –Tai Po Road
CP2 (14.5KM) – Beacon Hill
FINISH (18.8KM)- Wong Tai Sin Service Reservoir Playground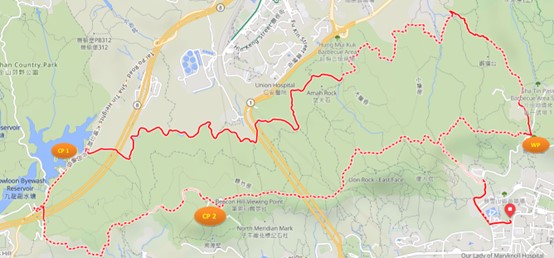 Latest checkpoints arrangement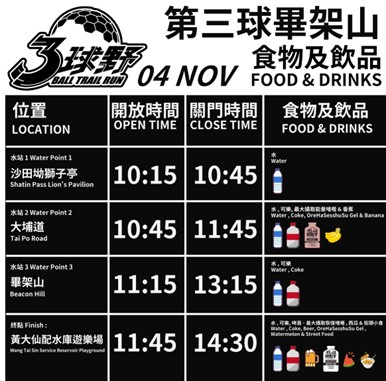 For details about the changes, please refer to the website
https://www.actionpanda3ballrun.com/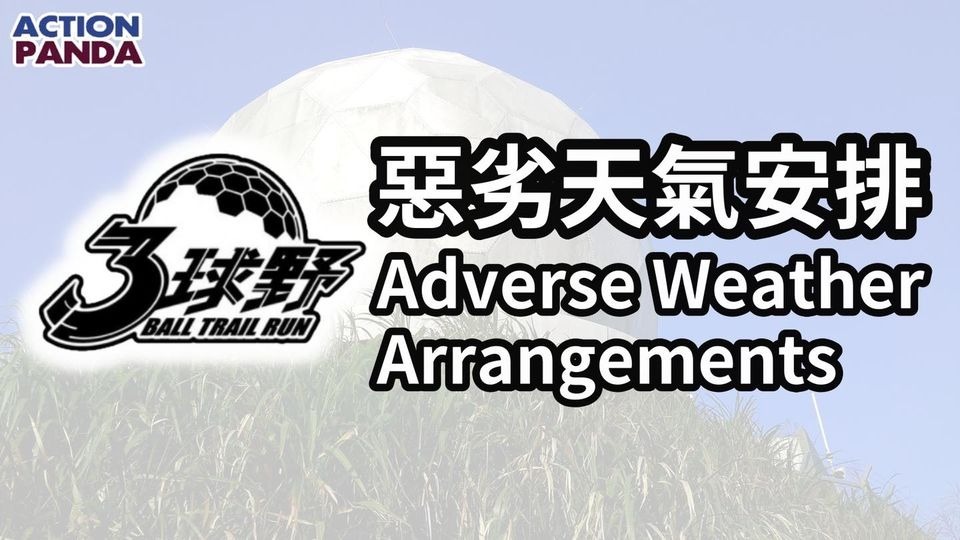 惡劣天氣下3球野-畢架山站比賽取消

受海葵殘餘低壓槽影響,由昨晚開始香港廣泛地區錄得破記錄雨量,多處地區受水浸影響。香港現暴雨成災,山體必會超出負苛,山泥傾瀉的風險甚高,大量山泥湧入山徑,更不適合進行比賽。大會考慮到基於安全理由,宣佈取消明天3球野-畢架山站比賽,稍後與政府各部門確定改期日子再通知大家。建議暴雨過後,遠離山徑,勿強行試路。

Bad weather notice of 3 Ball Trail Run -Beacon Hill series eliminated

Due to torrential rain brought by the trough of low pressure associated with remnant of Haikui. Extensive areas of Hong Kong have recorded record-breaking rainfall from last night , and many areas affected by flooding . Hong Kong is now suffering from heavy rains, the mountains will surely exceed the load, and the risk of landslides is very high, a large amount of mud poured into the trail, it may be unsuitable for trail racine. Based on the safety reasons, we have announced the cancellation of 3 Ball Trail Run -Beacon Hill series . The rescheduled date will be confirmed with government departments and will be notified to everyone later. It is recommended to stay away from trails after heavy rains and do pre-run forcefully.
Uglow X Action Panda 3 Ball Trail Series Run 3

球野系列賽
Uglow首次聯乘 Action Panda於仲夏推出3場系列賽,以香港3個著名山頂以球狀地標為主題的系列賽事, 分別是3球野-柏架山 , 大帽山 , 畢架山 .今次活動以系列賽形式進行 , 除了3場賽事組別冠亞季軍外, 更增設團隊獎項 ,可獲得UGS 及其他越野品牌精美產品.
報名日期﹕2023年5月24日起 (名額有限,額滿即止)
3場實體系列賽報名費: HK$1,280 (已包括Uglow 聯乘 Action Panda 3件套紀念品)
-UGS X 3球野越野跑短褲(熊貓黑/幻光藍) : HK$450
-UGS X 3球野排汗快乾Tee (熊貓黑/幻光藍): HK$300
-UGS X 3球野帽(熊貓黑/幻光藍) :HK$180
首350名成功報名參加者額外加送UGS跑步襪一對價值HK$120 (呎吋顏色隨機派發)

3場實體系列賽報名費: HK$880(不包括Uglow 聯乘 Action Panda 3件套紀念品)
2場實體系列賽報名費: HK$660(不包括Uglow 聯乘 Action Panda 3件套紀念品)
1場實體系列賽報名費: HK$350(不包括Uglow 聯乘 Action Panda 3件套紀念品)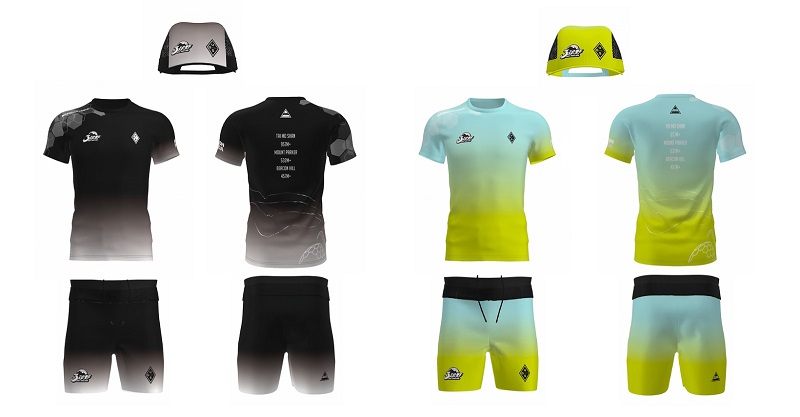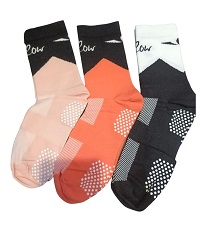 -Action Panda $100

現金卷
-3

球野系列賽索繩袋
-3

球野系列賽號碼布
完賽禮物

:
-

系列賽完賽獎牌

X 3
-3

球野防水戶外錢包

(

完成三場系列賽指定完成禮品

)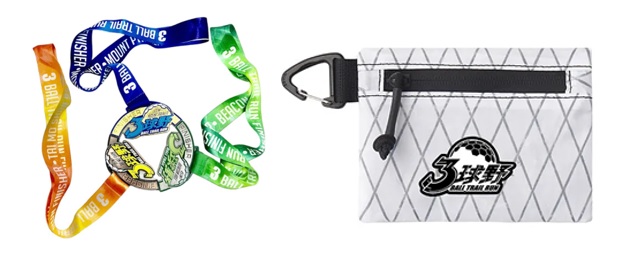 3

球野系列賽比賽日期
3 Ball Trail Run- Mount Parker 3

球野

-

柏架山
日期

:15/07/2023 (

星期六

)
時間

:

下午

15:00-18:30
路線

:

寶馬山遊樂場

->

大風坳

->

柏架山

->

大潭水塘

-->

渣甸山

->

金督弛馬徑

->

寶馬山遊樂場

16KM
限時

: 3.5

小時
https://ridewithgps.com/routes/42661005
3 Ball Trail Run- Tai Mo Shan 3

球野

-

大帽山
日期

:12/08/2023(

星期六

)
時間

:

下午

15:00-18:30
路線

:

扶輪公園停車場

->

禾塘崗

->

大帽山

->

施樂園

->

川龍

->

扶輪公園停車場

13.2KM
限時

: 3.5

小時
https://ridewithgps.com/routes/42661160
3 Ball Trail Run- Beacon Hill 3

球野

-

畢架山
日期

:09/09/2023(

星期六

)
時間

:

下午

15:00-18:30
路線

:

黃大仙配水庫遊樂場

->

沙田坳

->

衛奕信徑第五段

->

畢架山

->

九龍坳

->

麥理浩徑

5

段

->

黃大仙配水庫遊樂場

16KM
限時

: 3.5

小時
https://ridewithgps.com/routes/42411493
男女年齡組別:
男/女子個人-35歲以下
男/女子個人-35-49歲
男/女子個人-50歲或以上
團隊參加辦法:參加人數不限 , 每場計算最少7男3女最快的時間 .

獎項
-每場系列賽組別成績頭3名可獲得系列賽紀念獎座及獎品
-每場系列賽團隊成績頭3名可獲得系列賽紀念獎座及獎品
-3場系列賽組別總排名成績頭3名 , 可獲得聯賽紀念獎座及獎品
Uglow X Action Panda 3 Ball Trail Series Run
Uglow X Action Panda for the first time to launch a series races in midsummer .
A series of races featuring spherical landmarks on 3 famous hilltops in Hong Kong, Mount Parker, Tai Mo Shan and Beacon Hill. This event is held in the form of a series of competitions. The age and team group can get great products from UGS and other trail running brands.

Registration date: From May 24, 2023 (Limited places, while stocks last)

Registration fee for 3 physical series: HK$1,280 (including Uglow X Action Panda 3 -piece souvenir set)
-UGS X 3 Ball Trail Series Run trail running shorts (Panda Black/Apple Green): HK$450
-UGS X 3 Ball Trail Series Run Quick Dry Tee (Panda Black/ Apple Green ): HK$300
-UGS X 3 Ball Trail Series Run Cap (Panda Black/ Apple Green ): HK$180
The first 350 successful participants will receive an extra pair of UGS running sock worth HK$120 (size and color will be distributed randomly)

Registration fee for 3 physical series: HK$880 (excluding Uglow X Action Panda 3-piece souvenir set)
Registration fee for 2 physical series: HK$660 (excluding Uglow X Action Panda 3-piece souvenir set)
Registration fee for 1 physical series: HK$350 (excluding Uglow X Action Panda 3-piece souvenir set)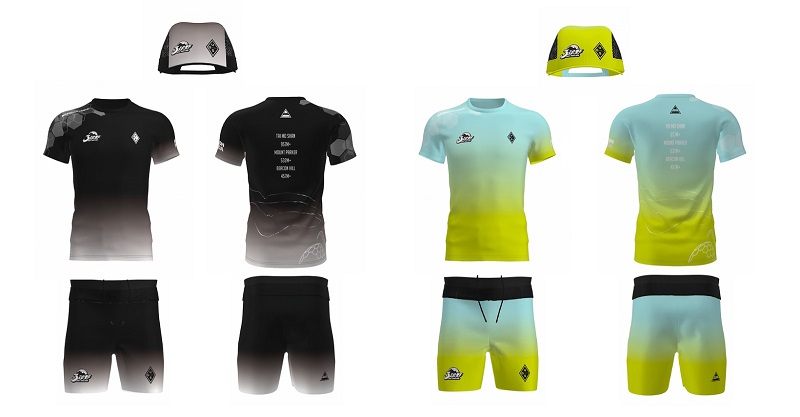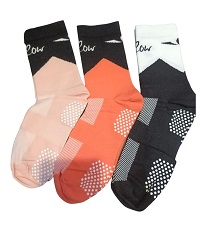 -Action Panda $100 cash voucher
-3 Ball Trail Series Run Bag
-3 Ball Trail Series Run bibs
Finisher gift:
-Series Finisher Medal X 3
-3 Ball Trail Series Run waterproof wallet ( designated finisher gift for completing three series applicants)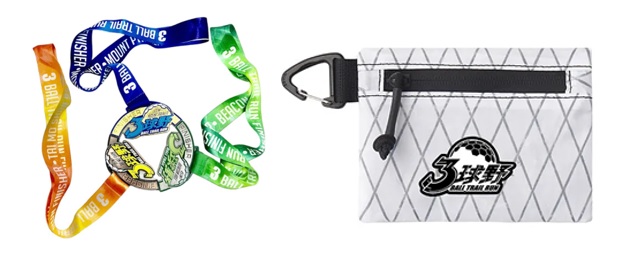 3 Ball Trail Series Run Event Date:
3 Ball Trail Run- Mount Parker
Date: 15/07/2023 (Saturday)
Time: 15:00-18:30 pm
Route: Braemar Hill Road Playground -> Quarry Pass -> Mount Parker -> Tai Tam Reservoir -> Jardine's Lookout -> Sir Cecil's Ride -> Braemar Hill Road Playground 16KM
Time limit: 3.5 hours
https://hikingtrailhk.appspot.com/hk/s/eewhi1

3 Ball Trail Run- Tai Mo Shan
Date: 12/08/2023 (Saturday)
Time: 15:00-18:30 pm
Route: Rotary Club Car Park -> Wo Tong Kong -> Tai Mo Shan -> Sze Lok Yuen -> Chuen Lung -> Rotary Club Car Park
13KM
Time limit: 3.5 hours
https://hikingtrailhk.appspot.com/hk/s/sf7qWJ

3 Ball Trail Run- Beacon Hill
Date: 09/09/2023 (Saturday)
Time: 15:00-18:30 in the afternoon
Route: Wong Tai Sin Service Reservoir Playground -> Shatin Pass -> Wilson Trail Section 5 -> Beacon Hill -> Reunification Pavilion -> MacLehose Trail Section 5 -> Wong Tai Sin Service Reservoir Playground
16KM
Time limit: 3.5 hours
https://hikingtrailhk.appspot.com/hk/s/rHOywq

Men/Women age groups:
Men/Women Individuals - Under 35
Men/Women Individuals - 35-49 years old
Men/Women Individuals - 50 or Over

Team participation method:
The number of participants are not limited, and the fastest time of 7 men and 3 women will be calculated for each race.

Awards
-The top 3 runners in each category will get series trophies and prizes
- The top 3 teams in each series will get trophies and prizes
- 3 series overall ranking of top 3 runners in each category will receive league trophies and prizes
Race Pack Collection location:
Action Panda Professional Trail Running Gear Shop
Address: Flat P, 4/F, Phase 2, Kwun Tong Industrial Centre, 460-470 Kwun Tong Road, Kwun Tong
Date and time: To be announced later